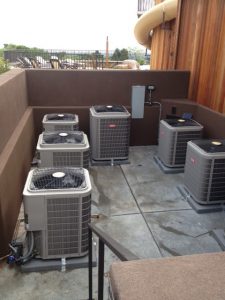 Central Air Conditioning Installation & Repair
---
"Air Conditioning" is a system that extracts warm air from an environment, cools the air, then re-cirulates the cooler air into the same environment. Central air conditioning refers to an entire system that accomplishes this task, usually to cool a large environment with multiple rooms.
At Calvey Heating and Air, we specialize in installing, repairing and maintaining all components of central air conditioning systems. When the temperature outside rises, we'll be there to make sure your interior remains comfortable for you and your family.
---
What is Central Air Conditioning?
Central air conditioning is a system designed to cool and circulate cool air within an environment, usually with multiple rooms. A central A/C system is made up of these major components:

An outdoor condensing unit
A matching indoor air handler
Ductwork to transfer the cooled air throughout the home
Thermostat
---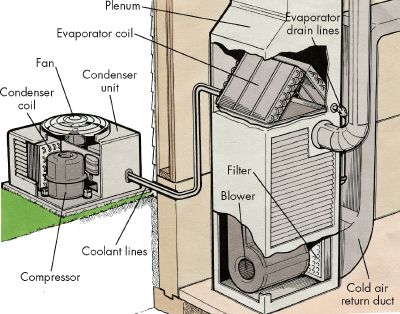 How Does Air Conditioning Work?
Most people think that air conditioners lower the temperature in their homes by pumping cool air in. The actual process removes warm air from your house and cycles it back in as cooler air. This cycle continues until your thermostat reaches the desired pre-set temperature.
An air conditioner is basically a refrigerator without the insulated box. It uses the evaporation of a refrigerant to provide cooling. The mechanics of the refrigerant evaporation cycle are the same in a refrigerator as in an air conditioner. A compressor compresses cool refrigerant, causing it to become hot, high-pressure gas. This hot gas runs through a set of coils so it can dissipate its heat, and it condenses into a liquid. The liquid then runs through an expansion valve, and in the process it evaporates to become cold, low-pressure gas. This cold gas runs through a set of coils that allow the gas to absorb heat and cool down the air inside the home.
---
Air Conditioning Brands We Carry
We carry Bryant and Payne brand air conditioners.