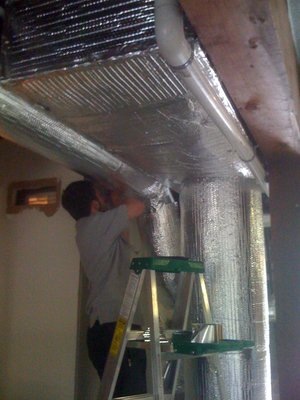 Duct Fabrication
---
Whenever you're involved in a renovation or new construction project, the topic of HVAC must be addressed. A major component of these systems is the ductwork that connects the heating and cooling equipment to the home or office environment. One of the problems with ductwork is the fact that some of the heating or cooling capacity of your HVAC system is lost in it. Our expert team has the experience to improve the efficiency of your ductwork to make sure your system delivers as much heat or cooling as possible.
At Calvey Heating and Air, we have years of experience fabricating custom ductwork. Whether you're renovating or involved in a new construction project, our expert duct fabrication service will ensure years or trouble free heating, cooling and ventilation.
---
What makes quality ductwork?

Installing the ducts in areas that are less likely to be affected by the environment
Ensuring ducts are properly sealed
Using high-quality insulation
Using a vapor barrier to prevent condensation
---
Energy Loss and Ductowrk:
It is said that your ductwork is the cause of a 30% loss in the capacity of your HVAC system. Bad ductwork can cause even further inefficiency, resulting in significantly higher energy costs and an HVAC system that has to work too hard to produce unsatisfactory heating or cooling. Knowing this, it is very wise to have your ducts fabricated by a professional who specializes in maintaining the efficiency of your HVAC system. This can literally save you hundreds or even thousands of dollars a year in energy costs. The practical advantage of having quality ductwork installed is that your HVAC system can more easily and quickly cool or heat your environment.