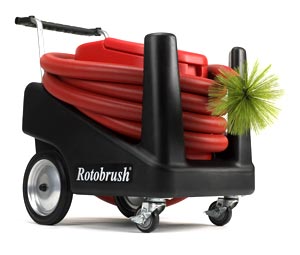 Air Conditioning & Heating Duct Cleaning Service
---
Did you know the EPA ranks indoor air pollution among the top five health risks?
Dirty air ducts have been identified as a major source of indoor air pollution. In fact, an air duct system is a breeding ground for bacteria, animal dander, mold and dust mites. These impurities can cause allergic reactions, breathing difficulties, infections and disease. Another risk associated with dryer vents is the buildup of lint, which can lead to fires and poor dryer performance.
At Calvey Heating and Air, we use a high-tech tool called the Rotobrush to clean your air conditioning and heating ducts and dryer vents. The Rotobrush is a combination of a brush to loosen the debris, then a powerful vacuum to safely remove it from the duct. Your ducts will be significantly cleaner after the process, and you'll begin to feel relief immediately.
---
The Duct Cleaning Process:
Removal and cleaning of registers (vents).
Technician cleans supply vents all the way to the air handler.
Dirt and debris is brushed, collected and swept up by the dual vacuum system.
Optimum coverage is ensured as technician works back through the system, overlapping much of the ductwork.
Vacuum attachment topically cleans inside the air handler.
---
How Does the Rotobrush Work?
The Rotobrush is a professional-grade tool that combines a spinning brush to loosen debris and a powerful vacuum to remove dust, pet dander, dust mites and other contaminants from your ducts.
Watch the video to see it in action!
---
Get a Price Quote for Duct Cleaning