Customer Testimonials
At Calvey Heating and Air, we have a strong commitment to your complete satisfaction, but don't take our word for it! Here are some of the places where our customers have left positive reviews of our work.
---
Angie's List
We received the Angie's List Super Service Award in 2011 and 2012.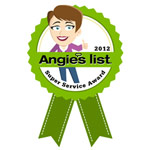 ---
Jules, CA.
We contracted with Calvey Heating and Air to replace an aged forced air furnace. Joe Calvey, the owner delivered a bid that was prompt, competitive and clear. Joe took the time to explain and discuss the options available to us. He arrived with an excellent assistant and cleanly and quickly finished the work. His insulation work was excellent and complete.
When we discovered a defect in the air return to the furnace, he fabricated a sheet metal solution. We had a problem connecting the existing thermostat and Joe supplied a new thermostat situated in a better location. Though these items were not in his bid, he did them at no extra charge. He provided reliable and quality work at a fair price and was a pleasure to have working in the house.
I recommend his work and will call him again if I have any similar need.
---
Corey, Half Moon Bay, CA.
Responsive, excellent work and service, most importantly, finished on time and on budget! Joe always answered my questions and kept my wife and I informed of our progress.
---
Dave, Cupertino, CA.
We hired Calvey H&A to clean our air ducts in our new house. He arrived right on time, did a quick inspection to give an estimate of how much it would cost, and got straight to work. The price was much better than other quotes we received, and it was very straightforward with no hidden charges or pushes to upgrade after he got started. He provided some advice on the general state of our heating system and was careful to clean up after everything. He went out of his way to help fix a duct that wasn't connected properly, spending a lot of time to find a way to connect it in well enough that he took back his suggestion that we might need to have someone else come back to give an estimate for repair. He also helped fix the loose connection of the dryer vent, which he offered to do for free even if we didn't want to pay for the dryer vent to be cleaned. And he didn't even charge us for any of this extra work! Overall it was a great experience, and while we might not need our ducts cleaned again for a while we would absolutely call them back with any other heating or cooling work that we have. It is great to find such friendly, helpful, honest, efficient, and knowledgeable contractors.
---
Rita, Los Altos, CA.
A very thorough and complete air duct cleaning done by Bernard. He spent just about 3 1/2 hours cleaning all the ducts and found that the worst one was the air intake duct which he had to clean 4 times to get it done right. Am very pleased and if I need to replace my furnace they will be the first ones I call.
---
Jennifer, Santa Cruz, CA.
Joe and his crew were polite and very professional. I had a leak problem in my a/c unit. Thanks to Joe, the leak is fixed and I feel like my house is ready for any hot summer weather. A big thumbs up and well deserved five stars for many reasons including, work completed in timely fashion(save$$), Joe kept me informed throughout the process(communication!) and his crew left our house as clean as they arrived.
---
Ryan, San Jose, CA.
I have been happy with the work of Calvey Heating and Air since day one. About 8 months after our central heating and air system was installed, Joe came by to make sure everything was working as well as the day he installed it. Everything was performing well, but at no cost at all Joe decided to up the size of the duct from my return to quiet the performance down a bit, as well as increase the airflow. This is something I would have never even thought of, and I appreciate him taking the time and care to do this for my wife and I. Joe is wonderful at keeping the customer happy, and for this I would give him 6 stars if I could!
---
Scott, Mountain View, CA.
Great service! We had our 40yr old furnace replaced and a new AC system put in to our townhouse. Joe and his crew showed up when he said they would, and completed the work in the time frame he quoted. They left our place cleaner than when they started, and generally treated our house and family with great respect. During the entire process Joe was very up front and honest with us and I felt very comfortable the whole time. I highly recommend Calvey.
---